School
School Management is a complex process as different acts at different levels are at stake. Moreover, there is a worldwide shift of trend from a management model towards a leadership approach. It implies that school managers are getting more responsibilities with regard to educational management, financial management and HR management.

In developing countries like India, school managers are not always used to or trained for this new role. Where school managers were engaged in daily operational management and problem solving of ad hoc issues, nowadays they are more involved in strategic management of the school. This is also the case for parents. To what extent do you involve parents in school management? Or is parents' participation in schools' daily life sufficient? As resources are scarce within the context of the Ministry of Education in developing countries, strategic choices can be hard to make in comparison with a middle income or a high income context.

As mentioned above, a lot of aspects are involved in school management: the link with the community, cross cutting themes such as gender, interaction between student and teacher, learning results, involvement of students and parents, internal quality control, etc, etc. Intellisis Resources Pvt Ltd has designed solutions to help schools run smoothly and efficiently and assist teachers to teach and learners to learn. We take care of everyone involved with your school - administrators, teachers, parents, and students. We have expertise in handling the varied needs of your school.

We provide innovative ideas and assistance to many primary and secondary schools in the country.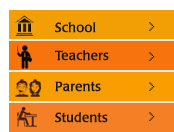 Intellisis Resources Pvt Ltd
SCO 66-67, Sector-8 C,
Chandigarh.
Phone : 0172 - 4641133
Fax : 0172 - 4641133
E-mail : intellisis@gmail.com


© Copyright 2013, Intellisis Resources Pvt Ltd